Joico Moisture for extremely dry hair
Joico fought products for dry hair to extremely dry hair, thick or rough hair or curly hair; Joico Moisture for those with extremely dry hair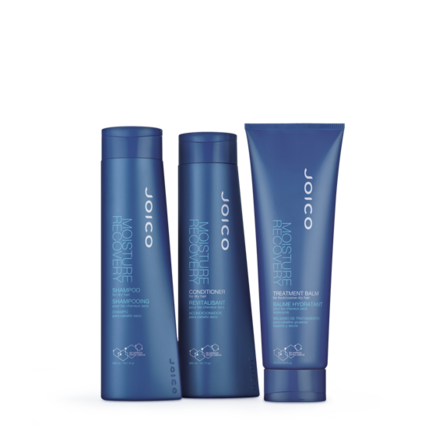 JOICO MOISTURE RECOVERY
Joico Moisture for dry hair that yearns for moisture
Always suffer from dry hair?
Overcoming hair that feels dry, unmanageable and difficult to style can be made using Joico Moisture Recovery products. A unique mixture of moisturizing ingredients from the sea is the solution for dry hair . Hair with a lack of moisture is transformed into smooth, soft hair with improved elasticity. Hair care products for extremely dry hair, curly, frizzy hair, thick or unruly . For hair types that have a shortage of moisture, feel stiff and are difficult to style. Improves elasticity and manageable.
Contains the Bio-Advanced Peptide Complex ™
Contains the Hydramine Sea Complex ™
Intensive, restorative moisturizing effect
Makes dry hair that is difficult to model again manageable
Makes the hair smooth, smooth and manageable
RESTORE THE NATURAL BARRIER
Fixed or loose, stylish or curly; for those who have extremely dry hair, almost any hairstyle seems impossible. Whatever the cause, the fundamental reason for dryness always lies in the hydrolipidic layer of the hair. This is a thin membrane between the cuticle layer and the fiber layer that is responsible for the moisture content of the hair. When this membrane is damaged, the hair cannot retain moisture.

The Hydramine Sea Complex ™. This is an elixir that comes from the oceans and consists of an exclusive blend of plant substances and minerals that are usually invisible to the naked eye. Together these substances restore the hydrolipidic barrier in order to make the hair manageable again and prevent further dehydration.
Read more
Close