Joico Blonde Life haircare
Joico Blonde Life is specifically focused on the types of natural blonde and colored blonde hair, highlights, bleach blonde and can also be used on gray hair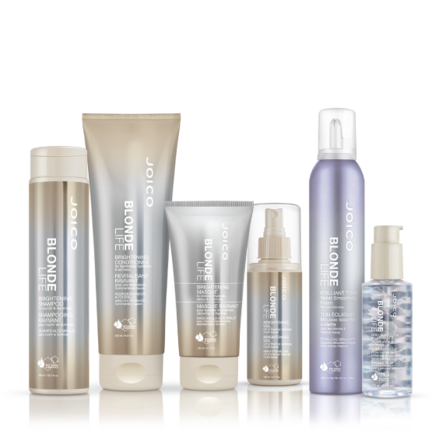 Joico Blonde Life Haircare
Joico Blonde Life is specifically focused on the types of natural blonde and colored blonde hair, highlights, bleach blonde and can also be used on gray hair
Blond hair is different from brown or red hair. It is more fragile and can be duller in terms of shine. The Joico Blonde Life line was created for this. Joico Blonde Life is specifically aimed at the types of natural and colored blond hair. We all want to keep blond hair fresh and light without it becoming discolored by the sun, sea and chlorine water. These three characteristics can give your hair a warm yellow glow. The Joico Blonde Life line ensures that this is prevented.
The Joico Blonde Life series consists of six products that will make your blonde hair more beautiful. It consists of the shampoo that cleanses the hair in a gentle way with natural detox fiers, so that the yellow and copper-colored shades have no chance. The keratin rebuilds the hair where the hair is damaged. And the shampoo is sulfate free.
The Joico Blonde Life conditioner is this line gives the hair a natural shine and ensures that all hair scales are closed again so that your hair feels smooth again. This conditioner feels light in your hair.
If your hair needs something more than a conditioner, there is also a mask for your blonde hair within line. Your hair is well hydrated by this mask for the ultimate feeling, imagine: your blonde hair that feels beautiful, shiny and supple.
After washing your blonde hair also needs the reinforcement just like any other type of hair. For this purpose, the Joico Blonde Life mousse has been developed within this line, which has a violet tint. This violet shade ensures that the yellow and copper tones do not get a chance in your hair. Furthermore, this mousse gives a soft bounce to your hair, so that the mobility remains flexible. The mousse ensures that your hair fluff remains free and provides your hair with a beautiful shine.
To keep your hair completely free of charge, you can also find the Joico Blonde Life serum within this line. This Joico Blonde Life serum is completely colorless so that no yellow glow can remain in your blonde hair. The hair remains clear, beautiful and feels smooth. This serum also makes your hair stronger, this can mainly be seen to cause less damage when combing your hair.
Finally, this line has a brightening veil. This Joico Blonde Life hair spray is indispensable in the summer in your beach bag. The spray contains UVA and UVB to protect your hair against the sun's rays. That way, a yellow glow is prevented in your blonde hair. This spray can also be used for the use of the flat iron and curling iron.
The spray ensures that your hair is damaged as little as possible by these tools. And also gives a mega boost of glass in your hair. This spray can also be used for all other hair and color types.
As you can read this line is nice and compact for the blondies among us who want to keep their blonde locks nice and fresh in terms of color and how blonde should be. And then your blondies will certainly have more fun!
More Joico Products
Read more
Close