FOOT Expertise Delicate foot care
FOOT Expertise foot care products to keep your feet soft and hydrated. Prevent roughness, dryness, and thickening of the feet, Protect from smell
€ 8,90

FOOT Expertise TeenNagel Repair is a regenerating oil for discolored and thickened nails. ...

Compare

€ 10,50

FOOT Expertise Hydra Recharge ultra-soothing treatment. Calms and nourishes the skin layer...

Compare

€ 10,50

FOOT Expertise Soothing Perspiroff deodorant for the treatment of feet that suffer from hi...

Compare

€ 10,90

FOOT Expertise Hygiene & Wellness Active Care Rich cream makes the feet soft. Nourishes th...

Compare

€ 10,90

FOOT Expertise Prevention Protection Soothing Cracks Refiller repair cream for cracked an...

Compare

€ 12,75

FOOT Expertise Cream Wash cleansing milk, ideal for keeping your feet soft and hydrated. F...

Compare

€ 12,95

FOOT Expertise Hygiene Blister Shield lotion that creates an invisible protective layer th...

Compare

€ 12,95

FOOT Expertise Hygiene & Wellness Deodorant Refresh 2 in 1 is a refreshing deodorant for f...

Compare

€ 13,95

FOOT Expertise Kerato Scratcher gentle peeling cream ideal to remove dead cells and unplea...

Compare

€ 15,90

FOOT Expertise DeStresser refreshing and distorted lotion, ideal for heavy, swollen, thick...

Compare

€ 19,50

FOOT Expertise Soothing Capillary Plus gel cream for feet, ankles and legs, treatment swel...

Compare

€ 23,90

FOOT Expertise Foot Protect Fungal SOS absorbent non-greasy cream to protect fungal infect...

Compare

Gratis Verzending vanaf € 75,- Netherland
Veilig Betalen
100% Originele Producten
FOOT Expertise
Diabetes & dermatitis friendly
Active care and powerful hydration lotions and gels that make feet feel silky soft and care for them. Prevents roughness, dryness and thickening of the foot. Nourishes and hydrates the skin intensively and protects your feet against daily stress.
FOOT Expertise foot care products ensure that your feet stay soft and hydrated. Nourishes the skin and is quickly absorbed for a long and soft feeling of beneficence. FOOT Expertise is ideal for hygienic and fresh feet without odors and soothes itching and burning sensitivities. FOOT Expertise is a refreshing and invigorating lotion that is ideal for removing dead skin cells and skin flakes.
Care for feet that sweat excessively, have hard skin and sweat a lot. The foot skin is protected against fungal infections and itching between the toes. FOOT Expertise Gel, creams and lotions for feet, ankles, and legs, ideal for treatment of heavy sensation in the legs, swelling and fatigue due to overweight, pregnancy, standing, high temperatures and intense exercise and long distance standing.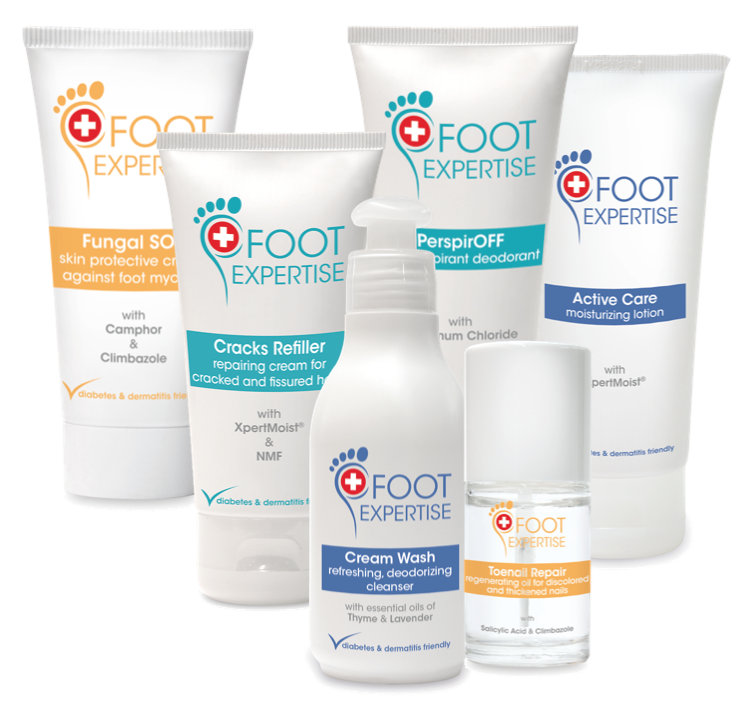 Read more
Close